Workshops & Special Classes
Online Ashtanga Yoga Teacher Training

with Gerald Disse & Linda Munro
Our online intensive training will offer a comprehensive overview of Ashtanga Yoga in a concise, interesting and intelligent format.
You will have 2 years access to all our teacher training videos and learning material. However, you must attend all 5 live streamed sessions and complete all the home study by August 2021, to be eligible for the Yoga Alliance certification!
Live stream sessions:
Saturdays January 9, February 6, April 10, May 22 and June 5, 2021.
Summer 2021 in Golfe Juan

with Ashtanga Yoga Paris trained teachers
This summer, AYP trained teachers will be offering special programs at our yoga studio, from July 26 – August 29. Come join us!
July 26 – 30: Ashtanga Yoga Workshop with Claire & Marie D. – Info
Aug. 2 – 8: Daily Yoga Classes with Paola & Yvan – Info
Aug. 9 – 21: Ashtanga Yoga with Sara Carissimo – Info
Aug. 23 – 29: Classes & workshops with Aija & Marie B. – Info
Contact the individual teachers for details & registration (see email in "info").
More dates and details will be added as the dates get confirmed.
Ashtanga Yoga, Les Fondations

avec Gérald Disse
Stage d'Ashtanga Vinyasa Yoga pour découvrir ou revoir les bases de la pratique.
Dans ces séances nous couvrirons en détail l'ensemble des points importants pour pratiquer avec confiance et en sécurité :
– Philosophie
– Respiration Ujjayi
– Asana : postures clés détaillées
– Bandhas : verrous internes
Learn to Teach Vinyasa Yoga

with Linda Munro
Each training day Linda will guide you through a Vinyasa practice, so you can experience as many 'sequences' as possible. Then we will explore different levels of Vinyasa classes – Soft Vinyasa, Dynamic Vinyasa for levels 1 through 3, Beginners Vinyasa – what kinds of poses are appropriate, the essence of the class, planning a class and finally building around a theme action or pose.
19 hours of video + PDF manual & suggested homework
1 year access
Approaching the Intermediate Series

with Linda Munro
In this mini-workshop of 4 videos – 5.15 hours total – we go through some of the fundamental poses of the second series of the Ashtanga Yoga System.
Exploring ways to access poses and vary them to adapt to your daily practice.
– Twisting Poses
– Back Bending Poses
– Hip Opening Poses
– On the Arm Poses
Taught in English.
Suitable for practitioners of all levels, except beginners.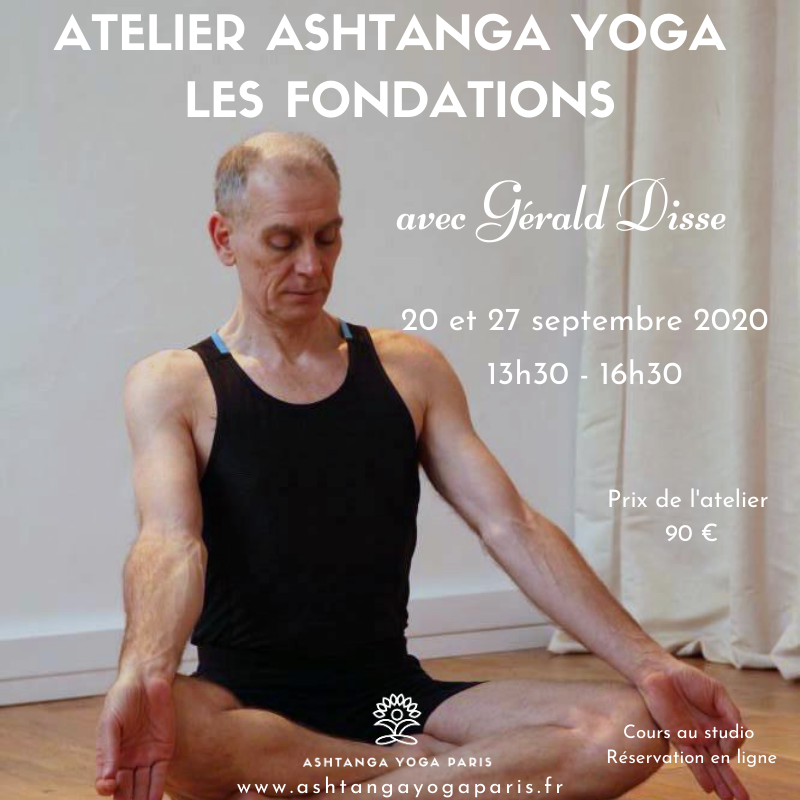 Ashtanga Yoga, Les Fondations

avec Gérald Disse
Stage d'Ashtanga Vinyasa Yoga pour découvrir ou revoir les bases de la pratique.
Dans ces séances nous couvrirons en détail l'ensemble des points importants pour pratiquer avec confiance et en sécurité :
– Philosophie
– Respiration Ujjayi
– Asana : postures clés détaillées
– Bandhas : verrous internes
 2020
  2021
Teaching Beginners with Linda – Paris – January
The Subtle Body with L & G – Golfe Juan – February
Yoga Sutras & Mysore with L & G – Golfe Juan – May/June
Mysore, The Bhagavad Gita & Yoga History with L & G – Golfe Juan – November